When purchasing an Aeron chair or any Herman Miller ergonomic task chair, it is important to know that you're buying from a reputable seller. Retailers that carry the "Authorized" or "Official" Herman Miller Retailer title have been vetted by Herman Miller and received the approval to sell new factory-direct Aeron Chairs. If a business if not an authorized retailer, then it is a reseller. This means the product is either used or a reproduction and not manufactured by Herman Miller.
Take caution if you're considering a seller that isn't authorized or official, be mindful that it won't come directly from Herman Miller and isn't guaranteed to be genuine or use all genuine parts. Unauthorized resellers or parallel importers might even avoid listing the fact that their chairs are used.
How to know if your seller is an Authorized Retailer?
Click here to access the list of Authorized Retailers under Herman Miller.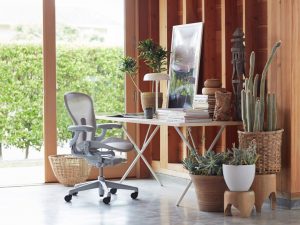 Warranty
Herman Miller carries stipulated warranty for its products. Please do NOT remove or tamper with the sticker under the products or your warranty shall be considered void.
As the Authorized & Exclusive Retailer for Herman Miller in Malaysia, TRAX furniture will service all warranty claims on site within 12 months of purchase. Warranty claims thereafter, but still within the stipulated period, will be subjected to a nominal transportation fee.
There will be no charge for replacement of product parts if the stipulated warranty has yet to expire. Kindly take note that replacement of damaged parts can only be done if damage is not the result of wear and tear.
| | | |
| --- | --- | --- |
| 12 years | 5 years | 1 year |
| Aeron | Eames Hang-It-All Rack | Airia Collection |
| Cosm | Eames Lounge Chair and Ottoman | Formwork Collection |
| Embody | Eames Moulded Plastic Series | |
| Mirra | Eames Walnut Stool | |
| Sayl | Nelson Platform Bench | |
Buying new from an Authorized Retailer guarantees you have a full manufacturer backed 12-year warranty. When you purchase an Aeron chair from a reseller or parallel importer, they may offer their own warranty from 0 to 12 years. Warranties vary from seller to seller but none are recognized by the manufacturer and servicing is dependent upon the reseller honoring it.
What can you do about a Herman Miller product you bought from a reseller that wasn't authorized and now the product needs to be repaired?
Because TRAX can't guarantee the condition or authenticity of the components used by unauthorized resellers, these products wouldn't be covered by Herman Miller's warranty. A fee of RM 650 will be applied for labour and transportation for services done within Klang Valley. Outstation transportation charges apply to different regions of Malaysia. Parts will be charged separately.
Buying from an authorized Herman Miller retailer gives you two advantages. First is authenticity. If the product comes from an authorized retailer, you can be certain it's the real thing. Second is warranty. Herman Miller and its authorized retailers stand behind every Herman Miller product and have the ability to make repairs, if needed.
What do you do if you need to request a repair for your Herman Miller product but it doesn't have a manufacturing label?
If you still have the receipt or credit card statement from the original purchase, you can contact us and we will help verify the warranty coverage and will coordinate the repair or replacement.
Contact us at retail@traxfurniture.com.my for further clarifications regarding your warranty for Herman Miller products.